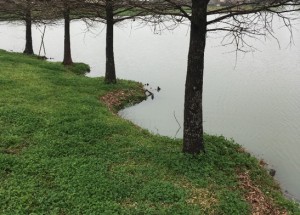 Maintaining a Community
The ponds and lakes around the greater Houston area add a beautiful dimension to the communities and to the city as a whole. And while these community lakes are aesthetically pleasing, their purpose of is to capture the storm water run off during rain events in order to mitigate flooding and improve water quality downstream. These storm water basins are an important part of the flood control system in all communities, as evidenced in the extensive flooding in many Houston area neighborhoods in recent storms and during hurricane Harvey.
Because cities and neighborhoods have so many imperviable spaces such as roads, rooves, driveways, and sidewalks; rain events cause run off to move at increased rate, and large storm events increase the volume and velocity of this run off which contributes to flooding and erosion downstream. The design of the storm water pond is to capture this water and release it slowly over an extended time to decrease flooding. It also allows sediment and contaminants that were picked up along the way to settle out before the water is released downstream.
In addition to flooding, this increased water volume and velocity during rain events causes erosion around the shoreline of many storm water ponds. The result of this erosion is not only large amounts of sediment being deposited downstream, but it decreases the water holding capacity of these ponds. What does that mean to the average citizen? It means the pond will hold less and less water during and after rain events, which further increases the risks of flooding.
Embankment erosion at one of the Pearland storm water basins.
A critical component of keeping any storm water system effective and working properly is to maintain it properly. Understanding this, some communities just south of Houston have taken a proactive approach to maintaining their storm water ponds and recently completed projects to remedy their erosion issues.
Proactive Management
Storm Water Solutions, based in Houston, is a professional engineering firm that specializes in preparing and managing storm water prevention plans for municipal utility districts (MUD). Storm Water Solutions is a source of expertise and management for the community from initial development to permanent maintenance of their storm water systems, helping to ensure that developers and MUDs are in compliance at all times with regulatory agencies.
After the devastating effects of Hurricane Harvey, many utility districts and communities in the greater Houston metropolitan area begun to take a closer look at their storm water systems to see how they could be more effective in moving water away from homes and roadways. Taking a proactive approach, Brazoria County MUD No. 28 enlisted the help of Storm Water Solutions to do bathymetric profiles and sediment surveys of their existing waterways. Brazoria County MUD No. 28 oversees the water ways of the two HOA communities in these studies. Both HOA communities are located in Pearland, and with recent flooding in the area both HOAs were experiencing the same ill effects of embankment erosion. The engaged studies help to determine how much accumulated sediment from erosion and upland run-off has been deposited in their ponds, lakes, and channels. It was found that not only was there accumulated sediment that reduces the water holding capacity of these features, but the immediate concern was that of the continuing and progressive erosion around the shorelines of their storm water ponds. Kaz Jones, Professional Engineer with Storm Water Solutions, says, "there were visual signs of the havoc reaped by fluctuating water levels and velocity of incoming water during rain events. The erosion along the embankments had caused undercutting along the shoreline, clumps of grass and dirt were falling into the water, and gullies were beginning to form in some places. At one of the ponds, the embankment around their cypress trees had eroded over time and exposed the roots, so they were at risk of losing their trees. Of course, all of this material from the erosion ends up in the pond. You don't see it, but it's there, and it takes up the space we need to hold water."
Erosion around trees.
Shoreline Solutions
To rehabilitate the shorelines of these storm water basins and to prevent future erosion, a bioengineered polyethylene fabric was used to create a living shoreline. The fabric is anchored below surface to firm ground above the embankment then backfilled with locally sourced materials such as sand and mulch. Steve Perry, project manager with Envirodredge who worked with Storm Water Solutions to complete this project, appreciates having a solution that is environmentally friendly and mimics mother nature. Perry says, "I take pride in installing a product that looks like mother nature put it there and knowing that it is safe for the environment and for the homeowners who enjoy this pond. Because the system is anchored below surface, there are no trip hazards, no cement blocks to shift under foot or fall on, and nothing to run over with a lawn mower. It's just plush grass all the way to the water."
Some of the additional benefits of using this system are that it can be vegetated with native plants other than grass, and because the material is knitted, it won't unravel if it gets accidentally punctured or cut by animals or machinery. Perry states, "We have used this erosion solution in other areas and have seen it withstand some pretty incredible water velocities, so I'm not worried about longevity or endurance. I also like the instant results. The Pearland installation was completed on April 23rd and two weeks later, Kaz Jones with Storm Water Solutions called to tell us the entire erosion system was four foot under water because of all the rains on May 7th. After a few days he went back to inspect the ponds and sent photos showing the embankments still intact and not affected at all by the flooding. Even the sod was still in place, and I didn't think it'd had enough time to root through the fabric."
Jones comments that the purpose of storm water ponds is not only to detain water during storm events, but they are designed to settle out pollutants and keep them from ending up downstream or in our lakes and rivers. He says, "Being able to immediately revegetate the embankments means we have an immediate buffer zone that filters the run-off of fertilizers and other contaminants that enter our water ways. So far, we've been pretty impressed with the results. I have hopes that we'll be installing a lot more of this around the city. It's a win-win for every community."
Material is secured to stable ground above the embankment with a subsurface anchoring system.
Erosion system is filled with sand, mulch, or other locally sourced materials .
After being secured, filled, and compacted; the erosion system is planted with sod which will take root and grow through the material creating a living shoreline.
The end result is a beautifully restored shoreline that reclaims lost embankments and protects against future erosion.